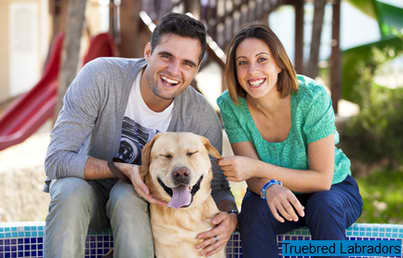 Registered Labrador breeders in NSW Australia, Truebred Labradors, are members of Dogs NSW.
General
Also, Truebred have been Labrador breeders in NSW Australia since 1997 and mostly offer both black Labradors for sale and yellow Labradors for sale. Puppies normally go to their new families from when they are at least eight weeks of age.
Before we provide a few more details about our puppies, we want to clarify that a Labrador Retriever is the correct and proper name for a Labrador. It is NOT a cross-breed between a Labrador and a Golden Retriever. We receive a number of emails about this and just wanted to clarify.
Top 7 things you should get from your Labrador breeder
There are 7 things that I believe that you should be able to get, if you wish, from any Labrador breeder in NSW Australia. These include:
hip-score test results for both puppy parents (should be below about 13);
elbow test results for both puppy parents (should be below 3);
PRA test results for both puppy parents (pups should not be affected);
EIC test results for both puppy parents (pups should not be affected);
pedigrees for both puppy parents (should be registered);
the current vaccination certificate for your Labrador puppy (should be current and have atleast C3 vaccination); and
the microchip registration transfer form (should have correct microchip number).
Obviously, some of these will not be available until after the purchase of a puppy.
Current Labrador puppies
My current litter of puppies are doing really well. They are two weeks old today (16/2/17):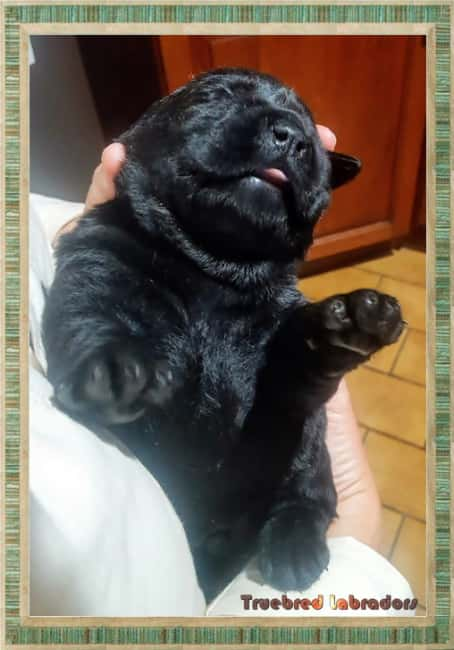 WARNING
IMPORTANT! Please note that there is a website named truebreds dot com and which are NOT me and also seems to me to be dodgy! The registration details for that domain are made private (see http://wa-com.com/truebreds.com), and many of the images (if not all) seem to be from other breeders websites. Also, there are no contact details, address details, etc on the website.
Labrador Puppies

Our Puppy Update page will normally have details of puppies available. We try and post updates often.
Most of our Labrador puppies go to their new families in the Sydney, Newcastle, and Central Coast regions, with some going to the Mid North Coast and Far North coast regions. Some pups also go to homes throughout NSW and also interstate. Transport can be arranged if desired. This can include by road and/or by air. Please note that we do not export puppies. More details, including costs, for example, are available on our Labrador puppies for sale NSW page.
There are a few labrador health problems that are at higher risk with some puppies or from some breeders. Our puppy parents or breeding stock are tested and screened for various possible hereditary or genetic health issues. These include (for example) hip dysplasia, elbow dysplasia, Exercise Induced Collapse (EIC), and Progressive Retinal Atrophy (PRA).
Details of reviews from some of our happy puppy owners are here.
Also, we have a number of puppy videos here for you.
If you are looking for cheap labradors for sale then we feel that this can be a 'false economy', as what you may save in the purchase price may be exceeded later on with health problems or associated Veterinarian fees. In addition to the stress etc. to the puppy owners, puppy, etc.
We hope that the above details and our website are helpful. Please do not hesitate to contact us if any further details etc. are required in relation to our Labrador Retrievers.
Truebred Labradors
Please note that our registered breeder kennel name is Truebred. Another Labrador breeder in NSW has used 'truebred labradors' on their website. They have been asked to remove this, so they have changed it to 'true bred labrador retrievers'. So please be aware.
Contact Belinda at Truebred Labradors today:

Quick Question and Answer section
Q:
Which labrador retriever color is best?
A: Which labrador retriever color is best may vary depending upon the individual circumstances and preferences. The different colours have different advantages and disadvantages.
Q:
Are Labradors and Golden Retrievers the same?
A: No, Labradors and Golden Retrievers are not the same. There are a number of differences, including that Labradors have a shorter coat length.
Q:
Are labradors gundogs?
A: Yes, Labradors are classed as gundogs.
Q:
Are labradors smart?
A: Yes, Labradors are smart. Labradors are considered by many to be in the Top 10 smartest dog breeds.
Q:
What do Labradors love?
A: Labradors love companionship and food with both being high on their list.
Q:
How big do Labradors get?
A: A fully grown or mature Labrador should be about 54 – 57cm high at the withers (top of shoulder), and about 25 – 36 kg in weight.
Q:
When do Labradors reach their full size?
A: Labradors should reach their full height when they are about 18 months of age, and should reach their full weight when they are about 24 months of age. Their diet, exercise, etc. can have significant impacts.
Q:
Are Labradors a large breed dog?
A: Yes, Labradors are classed as a large breed of dog.
Q:
How long do Labradors live?
A: Labrador live for the average lifespan of about 12 – 13 years.
Q:
Are labradors a good guard dog?
A: I have always found Labradors to be good guard dogs. That is, they will let you know if 'someone' is nearby outside.
Q:
Are labradors a healthy breed?
A: In comparison to numerous other dog breeds, Labradors are a healthy breed.
Q:
Are labradors a good family pet?
A: Yes, they are good family pet, assuming that you can care for them adequately.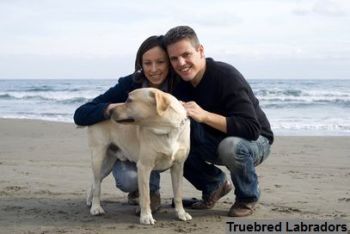 Q:
How long are labradors pregnant for?
A: Labradors are pregnant normally for about 63 days or 9 weeks from mating until birth.
Q:
A labradors personality?
A: The official Labrador Breed Standard states that their temperament is: "Intelligent, keen and biddable, with a strong will to please. Kindly nature, with no trace of aggression or undue shyness."
Q:
Where do labradors like to sleep?
A: I've found Labradors to be fairly flexible, but no doubt they do enjoy having company. Sleeping arrangements can be altered to suit the circumstances.
Q:
When do labradors come into season?
A: Labradors come into season anywhere from about seven months of age.
Q:
Why labradors are used as guide dogs?
A: Labradors are used as guide dogs for a number of reasons, including their personality, intelligence, trainability, etc.
Q:
Do labradors like company?
A: I don't think you could find a dog breed that likes company more than a Labrador, so, yes.
Q:
Do labradors like the beach?
A: Generally, Labradors love water, swimming, creeks, rivers, beach, etc, however, you can occasionally find one that is not overly excited about them.
Q:
Questions to ask a labrador breeder?
A: For me, I would be asking what are the puppy parents hip scores and elbow scores. I would also wanting to know if the puppies are or could be 'affected' by PRA or EIC ('clear' and 'carrier' I would accept).
Q:
How to be a labrador breeder?
A: To be a registered Labrador breeder so that you can breed purebred puppies with registered pedigree papers, you would need to join one of the various dog associations that are in each State. For example, in NSW, it is Dogs NSW. Then you also register as a dog breeder with the association. The rules for each association may vary.